July 9, 2015
Airline Sets Up Free Book Vending Machines In Southeast D.C.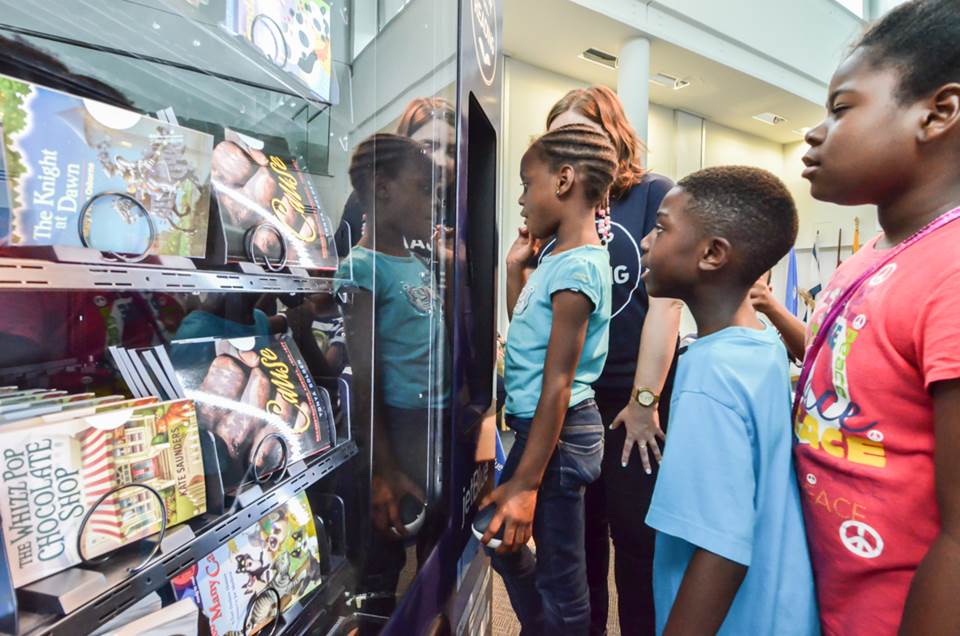 You've probably heard the term 'food desert' – it's used to describe areas, typically urban, where it's difficult to access quality, affordable food – but some areas are 'book deserts' too. These are neighborhoods where kids may have access to libraries but lack the resources required for building a home library of their own.
Studies have shown that having books at home has a positive effect on test scores and makes kids more likely to read for pleasure throughout life. Proximity matters and there are lots of great programs that aim to get books into kids hands and keep them there.
Now, Jet Blue Airways is launching a pilot program in Southeast D.C. that aims to get books into homes. Starting Wednesday, July 8, their Soar with Reading program will stock three vending machines throughout the area with free books for kids. They are located at:
Salvation Army | 2300 Martin Luther King Jr. Ave SE | Washington, DC 20020
Safeway | 2845 Alabama Ave SE | Washington, DC 20020
Matthews Memorial Baptist Church | 2616 Martin Luther King Jr Ave SW | Washington, DC 20032
Parents can sign up for text message alerts when the machines are restocked and Icema Gibbs, the Director of Corporate Social Responsibility for JetBlue Airways, told me that at the machines "a child can select their age and a topic and then get a book for free. They can come back as often as they like throughout the summer, and in addition to helping families start a library, we hope it shows retailers that there's demand for access to age appropriate reading material in the community."
This is a pilot program and it's uncertain whether it will be continued beyond the summer or replicated elsewhere after this trial phase. But Gibbs says the company, "really believes this is a great thing, and are excited about doing it. It's a project we're entering into without fear of failure."
We know that not all kids in our region have easy access to resources, a fact highlighted by a Washington Post piece this spring that pointed up unequal access to books in school libraries within the District. It's a national problem as well, with President Obama using the Anacostia Library as a backdrop for the announcement of an initiative that will get e-books to low-income young readers.
Last year I had a chance to go see another program that builds kids' libraries — An Open Book Foundation — in action during a visit to a preschool class at Malcolm X Elementary in Southeast D.C. That organization brings authors into schools to talk with classes and then the students get to bring a copy of that author's book home. It was so fun to see 4-year-olds put together the fact that the person they were talking to drew the pictures in these books that they got to keep.
Growing up I took the shelf overflowing with books in the corner of my room for granted. It was part of my daily routine to be read to from an early age, and later to read on my own. I'm sure that easy access to books, and interaction with my family around them, is one of the reasons I grew up to be such an avid reader.
If only the same were true for every kid.
This post has been edited to include updated photos and information.